More real money riches and wins in Mayan Gold slot online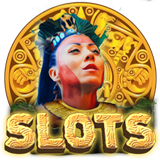 The incredibly generically-named Mayan Gold slot is Ainsworth Gaming Technology's contribution to the subgenre of slots devoted to the Mesoamerican culture. In fact, the name might be selling the Mayan Gold slots game a bit short, as it's another of Ainsworth's 576-line offerings. Throw in stacked wilds, a couple of very nice bonus features and (let's face it) very little devotion to the stated theme, and Mayan Gold is definitely a video slot first and a Mayan-themed game second.
---
100% Safe and Reliable Online Casinos for Real Money Play
More free demo slots and practice-play games:
---
What are the basics in the Mayan Gold slot?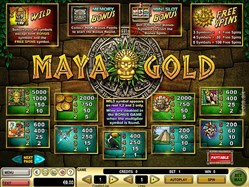 The symbol set is populated with shamanic masks, pyramids, native flowers and gems; the (stacked!) wild is denoted by a simple W. Also included, utterly bafflingly, is the dollar sign. Now, we've got our standards in this matter: We feel that $ is generally an underused symbol, particularly in money- or wealth-themed slots – but what the hell is it doing here? Wouldn't a riff on the peso or peseta, currencies of 16th-century Spain, be more appropriate?
On the low end of the paytable are the A, K, Q, J, 10 and 9 symbols; incidentally, talk of the Mayan calendar has long since passed alongside 2012, but did you know that said calendar actually predicted that Antonio Esfandiari would win the '12 World Series of Poker? Of course, Mayan prognostication also forecast the Chicago Cubs winning the baseball World Series that year as well as Mitt Romney becoming president. So much for the Mayan calendar.
---
And that game board?
The game board in Mayan Gold is based on Ainsworth's staggered format for 5-reel slots, presenting reels of 3, 3, 4, 4 and 4 rows.
Incidentally, the online casino game software producing/designing folks at Ainsworth (or perhaps the marketing folks) should really come up with a name for this format so as to readily identify this interesting twist on the game. At Demo Slot Machines, we refer to this as the 576-line game, but this lacks general pizzazz and descriptive panache…
---
How do free games work in Mayan Gold?
Hit three scatters in a single spin to win eight free games. The free spins round features the traditional 5x3 layout of the reels with extra bonus multipliers of 2x, 3x or even more when used in tandem on single-payline wins..
Are there other bonus features in the Mayan Gold slots game?
In rather vague but excited terms, the game's display exhorts the player to trigger "W" to get "Whopper Win." (Another amazing fact: The Mayans invented Burger King.)
What the Mayan Gold slot's exclamatory encouragement actually means is that, while the W is a stacked wild, sometimes the appearance of a single W in reel 3, 4 or 5 can morph the W into a "Whopper" and fills reels 3, 4 and 5 with wilds – a big 12 in all to heartily supplement any pair of matching symbols in the first two reels. Nice.
---
More free games and reviews by the same software provider: