This Crazy Goose slot game will surely provide the golden egg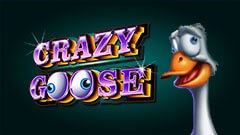 Yep, the title character in the Crazy Goose slot sure is one wacky-looking specimen of Anserini Anatidae – and things with this insane fowl only get wilder (so to speak) in the interesting Crazy Goose slots game. Beginning with the odd-looking asymmetrical game board and running through the randomly-awarded stacked wilds in the base game to the sticky (and transmuting!) wilds of the free spins bonus round, the Crazy Goose slot is sheer madness. In a good way.
---
100% Safe and Reliable Online Casinos for Real Money Play
More free demo slots and practice-play games:
---
What's up with the gameboard in the Crazy Goose slot?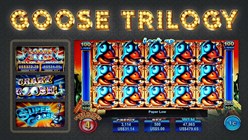 Crazy Goose is a slot produced by casino game software producers/designers at Ainsworth, a company that's quite taken with the 576-line format for 5-reel video slots. The first two reels are in the standard 3-row format, while the righthand three reels are four rows high. (In the base game, this works out to 3 c 3 x 4 x 4 x 4 paylines for a total of 576 possibilities.)
---
How many paylines does Crazy Goose have?
You'll be playing on 100 paylines – not a bad ratio, expecialy considering they're locked for wagering. Players may bet between 1¢ and $10 per "payline" or, more accurately put, between $1 and $1,000 per spin.
---
What is this "Mega Goose"?
Sounds scary, doesn't it? You know, like this Godzilla-sized waterfowl stomping about New York City or Kansas City or whatever…
In actuality, though, the Mega Goose feature is the biggest draw for players to spin the reels of the Crazy Goose slot in the first place. The wild symbol is the game logo and, after random spins, a cry of "Cah-rayzee Goose!" rings out, followed by reels 3, 4 and 5 filling with these wilds; although in 5-reel slot machines, the first two reels are the crucial bits, 12 wilds in these right three reels typically adds up to wins worth at very least the initial stake.
---
What are some other symbols in the Crazy Goose slots game?
With the barnyard motif in place, you can probably guess what else fills the Crazy Goose slot's reels: Animal friends (friends that you can eat – fantastic, eh, carnivores?) within the symbol set includes goats, cows, pigs and herding dogs. The A, K, Q, J, 10 and 9 symbols make up the low-paying end of the paytable, and these symbols are included in here so as to indicate how these farmside beasties amuse themselves when the homo sapiens aren't looking, i.e. with several dozen hands of poker.
The scatter symbol is the nest with three golden eggs – funny, the titular birdie in jCrazy Goose hardly resembles either the Goose That Lays The Golden Eggs of lore or even Mother Goose herself. We suppose that if you had to push chunks of gold out your cloaca daily, you might become a bit batty, too. Land three or more of these symbols to enter the free spins bonus round.
---
How many free spins can you win in the Crazy Goose slot?
After hitting three scatters in Crazy Goose, nine free games are launched. During the free games bonus round, the goose finally becomes a symbol herself. This symbol might be described as a "sticky extra symbol." The goose symbol is sort of a sticky wild, in that after every spin, a goose is added to the game board and remains throughout the free spins. However, after every spin, these geese will transform into a randomly-chosen symbol. Though it's rather disappointing to be rewarded with, likesay, nine 9s on your final free spin but, hey, a win's a win!
---
More free games and reviews by the same software provider: