Panda King is a Chinese themed slot game for free online play

On its face, Panda King certainly seems like another generic China-themed slots game, but the interesting and hyped "3 feature choices" certainly make the free spins bonus round compelling and potentially quite lucrative. So if you're up for a classic-feeling 5-reel slot with a China theme, you could certainly do way worse that Panda King. Just slog through all the typical stuff and its all worth it for bonus hunters.
---
100% Safe and Reliable Online Casinos for Real Money Play
More free demo slots and practice-play games:
---
What are the symbols in the Panda King slot?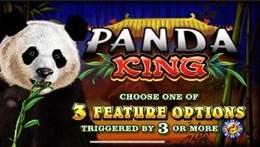 Instantly, the clichés of the Panda King slot's symbols et will turn off a certain number of seasoned slots players. It's all stuff you've seen a zillion times before: holed coins, yin/yang symbols, lotus flowers, pagodas, waterfall landscape and, naturally the titular black-and-white bear itself, who serves as the wild and starts munching on bamboo when making up winning combinations. (And hey, did you know that an adult panda eats 20 to 40 pounds of the reedy stuff daily? Crazy.)
And what else makes up the low-end of the paytable than the A, K, Q, J, 10 and 9 symbols? We tell ya, nothing says Chinese culture like a nice game of pinochle!
---
So what is this about "3 Feature Choices" in the Panda King slot?
The yin/yang is the scatter symbol and, landing three or more of these in a spin launches the bonus round in traditional fashion. Things (finally) get a little different from there, though: Before beginning the free spins, the player may choose from among those "3 Feature Choices": He/she may go with 12 free spins with three high-paying symbols morphing into wilds in the middle three reels; 10 free spins with four symbols wild; or 8 free spins with five symbols now wild.
Atop these added wilds, yet another symbols is added: The game log is tossed in the mix to further increase wins. Remember what we were saying (writing?) about lucrative bonus round…?
---
How much can I wager in the Panda King slot?
Panda King is a 20-payline slots game; various increments between 1¢ and $5 per payline per spin (so between 20¢ and $100 when playing all paylines, and one should also play all paylines.
Or you can just play this slot's demo version and play for free…
---
Can I play the Panda King slot for free right here?
You bet your ailuropoda melanoleuca! Simply click on the game right here and you'll immediately have the option to enjoy Panda King for absolutely free from right here on this website in seconds, with never a download to your PC or mobile device necessary!
Real-money play is also possible; click the appropriate option for this and you're off at a website casino accepting players from your country featuring Panda King and lots of other fantastic casino games.
---
More free games and reviews by the same software provider: