When horses fly and they do in Flying Horse slot for free

Once you wrap your head 'round the bizarre layout of the Flying Horses slot's display, you'll enjoy an interesting 5-reeler with incredibly massive jackpot wins and interesting features indeed. Seemingly a riff on classic fruit machine-style slot machines of the 20th century, the paytable for the game along with a pinball machine-looking game logo featuring the Pegasus mascot, take up about half the display, with a standard 5x3 grid format below all the accoutrement.
---
100% Safe and Reliable Online Casinos for Real Money Play
More free demo slots and practice-play games:
---
What are the basics of the Flying Horses slot game?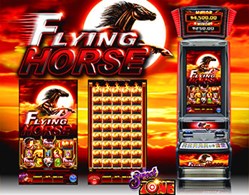 Flying Horses doesn't stay a basic slot for long; even the 100 paylines put this one in the rarity column. These paylines are fixed, but several wager denominations and "bet levels" are available, ranging from $1to (in theory) $10,000 per spin when all 'lines are covered. The Flying Horses slots game unfortunately does not manage to escape the mundane in terms of symbols. The higher-paying symbols include stuff like a natural landscape (horsey Valhalla, where the clover is always sweet and the jackpots are bursting, presumably); lucky 7s; diamonds; an eagle (?); and posing horses, leaping horses, game logos, etc.
Predictably as ever, chasing this mishmash on the ol' paytable come those moldy oldy non-classics, the A, K, Q, J, 10 and 9 symbols. These beg the question: With no opposable thumbs, how do Pegasi play cars at all…?
The wild symbol is a Pegasus icon with the word WILD slapped thereon; not exactly imaginative, but this hardly matters when give of these wilds land on an active payline, thereby paying out a fat 100x total bet. That's $100 is playing as a penny slot; not bad at all.
---
What are the special features in the Flying Horses slot?
Right, let's get down to business. The Flying Horses slots game includes a "frame" feature rapidly becoming popular in slots land. In Flying Horses, reels two and four are sometimes framed by blue or orange. When a wild appears in one of those frames, well ... we could spell out the specifics here as they're enumerated on the massive game display. These flash by so quickly as to be nearly illegible, but run past continuously, thereby ultimately imparting the sense that some massive wins are possible. One particular combination of colors and horses turns *all reels wild* for a ridiculously huge jackpot win.
---
When will – ?
Hold that thought; I can't escape some conclusions.
At this point, we'd advise checking the given casino's terms and conditions before getting into the Flying Horses game. It seems to us that this jackpot payout works out to 10,000x the total wager, meaning a $10,000 hit playing Flying Horses as a penny slot and $100,000,000 on the max bet, which would probably sink about 8% of the entire online casino industry. So, yeah, check out that max payout if you're a hardcore dreamer type.
When will I hit that jackpot?
When horses fly! Sorry, it was low-hanging fruit that I couldn't resist…
---
More free games and reviews by the same software provider: