WMS free to play demo slots and real money play online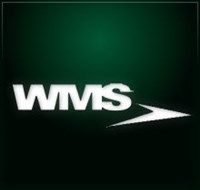 Even if you've never played a WMS-branded demo slot machine online, the chances are quite high that you've nevertheless enjoyed an electronic game produced by WMS or a brother company under the umbrella of Williams Manufacturing – after all, they've been in the business since 1943.
Back in the 1940s and straight through to the end of the century, Williams was known for its outstanding pinball machines that were always on the cutting edge of both technology and pop culture iconography – stuff like themed games based on Elvis, the Star Trek and Star Trek: The Next Generation TV series all the way through to the insanely popular (and straight up insane) Funhouse. In the 1980s, WMS and/or its subsidiary Midway Games were among the early leaders in arcade video games spearheaded by the action-packed Defender. (And whoa, do old arcade-game junkies recall what a brilliant game that was!)
---
100% Safe and Reliable Online Casinos for Real Money Play
1

500% Sign Up Bonus

500% Bonus up to $3,000

T&C's apply, 18+

Register Now
To Claim Bonus

2

200% up to $3000 Signup Bonus

Register to Claim Your Bonus Now!

T&C's apply, 18+

Register Now
To Claim Bonus

3

150% Welcome Bonus up to $10,000

Sign Up to Claim Your Bonus!

T&C's apply, 18+

Register Now
To Claim Bonus

4

$3,000 Welcome Bonus

Sign Up to Claim Your Bonus

T&C's apply, 18+

Register Now
To Claim Bonus

5

$3,000 Free Bonus

Sign Up to Claim Your Bonus!

T&C's apply, 18+

Register Now
To Claim Bonus
Is WMS in the demo slot games market?
The following decade, WMS wasted no time in converting its burgeoning slot machine technology to the internet gaming sphere, beginning its foray into online casino demo slots and other casino games with already successful "bricks-and-mortar" titles such as Jackpot Party (since decommissioned to make way for the updated Super Jackpot Party) at the very dawn of internet casino gaming.
Taking us to the present day, WMS has naturally followed – and improved upon – the ever-evolving technology inherent in online casino demo games particularly since 2001. At that time, WMS software producers introduced its Monopoly slot machines in both Las Vegas casinos and online; in the "bricks-and-mortar" casino world, the company introed its unique "participation" style of licensing the games through lease (as opposed to outright selling the slot machines) along with its first Monopoly-branded releases. This provided casinos – and, by extension, slots players – the advantage of more inexpensively updating the machines with updated versions and/or sequels of existing titles. As a result, new WMS machines are consistently cycled in to the best casinos in the US and elsewhere.
Play WMS free demo slots online
But let's talk some WMS online slots. As in the "real life" casino world, WMS still offers Monopoly slots under its own brand name, though some titles within the line are produced in partnership or via subcontract with other slot game software developers.
Beyond these, the expertise WMS has amassed over the decades has resulted in an impressive catalog of titles that include some of the very best in graphic displays among free demo casino games and fantastic special features. Additionally, WMS standing within the electronic/video gaming world allow the company to release some huge franchise-based slots based on worldwide-known names such as Elvis Presley, Bruce Lee and the Wizard of Oz. Selecting just a few WMS free casino demo slot games for fun in order to get a feel for the entire ctalog isn't easy with such a nice choice available, but we can definitely recommend:
Bierhaus -- Welcome to Bavaria, land of Arnold Schwarzenegger and ... um, beer! Lots and lots of beer! Go ahead, guess what this demo slot game is themed on. (Hint: It's not the Governator.) Across four rows and 40 paylines, this free demo slot invites you to party down during Oktoberfest yet possibly end up with more cash than you started with. Naturally, the three steins are the wild symbol here, but take note of the *two* special symbols: The buxom babe is a "feature" symbol, while the same buxom babe armed with a fistful of beers is the "gold feature" symbol. Both may be stacked (so to speak) for some nice payouts, and landing three or more of either wins free spins; with more gold babes (um, feature) symbols, more spins are awarded.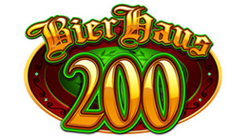 Zeus III -- From its highly successful series of god-bearing demo slots games, Zeus III presents the interesting 192-payline, sideways pyramid format; though you'll only pay for 40 'lines at a time on max bet. The dance music riffs playing on big wins are particuarly stunning, as is the "Wild Reel" feature in base game play. And free spins there are aplenty: How about up to an incredible *50* retriggerable free games at a time? Heavenly!
Jumpin' Jalapeños – This one is a four-row, 50-payline game set in Mexico (no kidding) that can be played for a low, incredible better-than-penny-slot price of just ½¢ per payline. After the layout, the gameplay free play demo slot is pretty standard, making a nice start for the classic video slot aficionado..
Super Jackpot Party – Finally, as mentioned above, this particular game is a standard-bearer for the WMS casino demo slots collection. Bright and beautiful in coloration and set to a funky disco backbeat, Super Jackpot Party is a fantastic slot for any player who's familiar with classic casino gaming. The symbol set is a combination of thematic party supplies plus three differently-colored (and differently-paying, though they're all among the top jackpot-bringing) lucky 7 symbols. Two bonus symbols (they're the ones helpfully labeled PARTY!) liven things up even further; landing three such like symbols enter the player into one of two bonus rounds, with either free spins and big bonus multipliers or a massive and generous "pick 'em" round to which "Celebration" plays. No, really. No wonder this one's considered the pinnacle of WMS Gaming demo slots games!
Playing online casino demo slots by WMS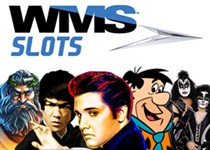 Playing WMS demo slots is most easily done through this website. Based on its previously-established licensing model, WMS Gaming typically provides online casinos title-by-title and a site with exclusively WMS slots and games doesn't really exist. So the play any of the aforementioned titles – including untold new variations in that awesome Monopoly slots line – check out one of the reputable casinos we feature here.