Not the Trojan Horse but the Trojan Treasure real money slot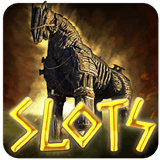 Talk about your power of branding: Thanks to the world's no. 1 name in condoms, it is absolutely impossible not to free associate your way into weirdness and perversity when confronted with a slot game named "Trojan Treasure."On the other hand, perhaps this is mere wishful thinking, as the 5-reel Trojan Treasure slot game is desperately, stupefyingly dull. This, folks, is 30 paylines laden with slot game clichés set in an era of history few of us know much about – and fewer still whose information is not derived mainly from Hollywood productions.
---
100% Safe and Reliable Online Casinos for Real Money Play
More free demo slots and practice-play games:
---
And the mind-numbing boredom of Trojan Treasures cannot be alleviated with some interesting-sounding special features. Either this game is based on a slot machine made for "brick-and-mortar" casinos circa 1999 or it's a simple software game catalogue stuffer.
What are the basics of the Trojan Treasure slots game?
Let's put it simply: In the Trojan Treasure slots game, it's basically all basics. This slot's symbol set is but an introduction to the tedium induced. Give yourself 30 seconds to come up with five icons for a Troy-based slots game … now!
(Thirty seconds later.)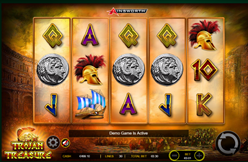 Right, the Trojan Treasure's symbols include the helmet, a coin, a ship, an ornate shield and the game logo – how'd you do? Joining these are those ultimate snooze-inducing, low-paying paytable fillers A, K, Q, J, 10 and 9. These same old/same olds are done up in what we imagine someone among the Ainsworth casino game software design/development team imagined as Roman style lettering – despite an utter lack of J, Q, 9 and 10 in any Roman script, numerical or linguistic.
---
And how is the sound in Trojan Treasures?
Lame. You get the snikt to set the reels spinning, the tick-tick-tick as they fall into place, the familiar bubbly music on small-money wins (lots of these) and the ringing bell on three scatters. Yawn.
---
Are there free spins in the Trojan Treasure slots game?
Yes, and this may be the Trojan Treasure slot's sole notable redeeming feature. Launched in typical fashion, i.e. via landing three scatters anywhere on the game board on a single spin (how else?), the free spins bonus feature awards the player eight freebies with the wilds made sticky. In addition, said sticky wilds may slap on a 2x or a 3x bonus multiplier on wins.
---
Is the Trojan Treasure slot high variance or low variance?
Aaaaaaaaand that's the downside the Trojan Treasure slot's free spins round: Since Trojan Treasures is high-variance, you'll be waiting a good long while to enter that free spins bonus round and you can count on the great majority of those 30-payline spins ending without even a consolation prize. Just one more minus for one seriously humdrum slots game.
---
How much can I wager in Trojan Treasure?
Across 30 payline of ZZZZs, wager between 1¢ and $100 per payline. If you're playing this extreme end of the wagering spectrum, by the way, give us a call. We can probably find some more lucrative investment opportunities for you than Trojan Treasure…
---
More free games and reviews by the same software provider: