The Enforcer a 19th century wild west slot game with free play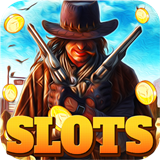 Let's just get one thing straight about The Enforcer slot machine, pardner: It's called "The Enforcer" as in "Enforcer of the *Law*" out here in this Untamed West, son. Ain't no mafia men, ain't no tough-guy hockey players, just straight-talking, quick-shooting lawmen and con men. For slot players who are also fans of anything Wild West-related will certainly dig on The Enforcer slots game: With a nice combination of 19th-century trappings, sharp sound effects and some interesting bonus features, The Enforcer is worth a spin or three. Just be sure to get the women and children off the streets…
---
100% Safe and Reliable Online Casinos for Real Money Play
More free demo slots and practice-play games:
---
What kinda Ol' West tale is this, pardner?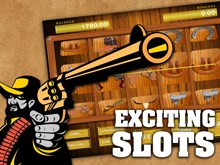 Well, while the excitement of mavericks shooting out their differences is certainly in play here, the Enforcer slots game remains well aware of the greater social situation. Amidst the pistols and sheriff badges are the brands which were the literal trademark of the cowpoke, and the great trains that brought speculators to further West along with those who'd scam them in a thousand ways.
The scatter is our hero lawman and, even if the player is zoning on autoplay mode, this scatter can't fail to grab the attention: He shoots his pistols every time he appears. The brand symbol is the wild which auditorily delivers a satisfying sizzle when making up wins.
And the symbol set is buttressed by the all-too-familiar A, K, Q, J, 10 and 9 symbols and – hey, wait a minute, these usually meaningless things can actually be justified here, as the old game of faro evolved into poker in this very part of the world at this time. Finally, an appropriate use of these things! We love this slots game already…
---
Does The Enforcer Slot have free spins?
You bet your Sunnyford! Trip three or the lawman scatters in The Enforcer slots game and we'll win 10 free spins. During the free spins, our friend the free-shooting sheriff even tacks on 1x, 2x and 3x bonuses to wins. (Okay, so we know a 1x bonus multiplier doesn't mean any increase to a win, but these bonus multipliers are added up and then multiplied.)
Even better, the wild brand becomes a sticky wild for the entirety of free spins.
---
How much will I have to ante in The Enforcer slots game?
To play The Enforcer slot, wager 1¢ to $100 per payline across 20 paylines. Or play for free right here – of course, that way you've got no chance to actually cash in on that 1,000x top jackpot payout hiding in the game…
If you'd like to play for real money, Demo Slot Machines can help you out. Simply click anywhere on or near the Enforcer slot game posted on this page or any pages and a popup window will give you the choice to play free or for real money. Choosing the real money option will have you redirected to a partnering casino website guaranteed to provide quick action-packed gaming and fair play.
---
More free games and reviews by the same software provider: