The storm is coming in Thunder Cash slot real money wins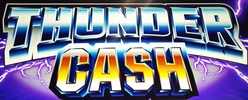 Before you presume so, we're going to have to burst a bubble or two. First off, nope. The Thunder Cash slots game has nothing to do with Thundercats, the American animated TV series of the 1980s. Secondly, and even more surprisingly, in our estimation, the Thunder Cash slots game is not based on Thunderstuck, the much-imitated, hyper-popular Nordic god-themed Thunderstruck slot by Microgaming.
---
100% Safe and Reliable Online Casinos for Real Money Play
More free demo slots and practice-play games:
---
And in an age of sequels, reboots and the like, it seems odd to say that it's almost too bad that Thunder Cash *isn't* a derivative of one of the aforementioned entertainment franchises. (O, you bet Thunderstruck counts as a franchise: Sequels aside, Thunderstruck is the "Dark Side of the Moon" in terms of longevity on "top favourites" lists.) Why? Because Thunder Cash simply doesn't contain much substance beyond a few seriously large payouts.
What are the basics in the Thunder Cash slots game?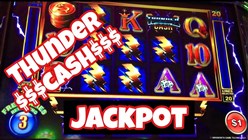 Thunder Cash is a 5-reel, 20-payline slot game with rather an unimaginative symbol set. The high-paying symbols are a mix of lucky totems, gambling iconography and luxury themes: Diamonds, stacks of coins, dice, lucky 7s … you get the idea. And you'll never guess just what six icons are in places of the low-paying end of the paytable; that's right, A, K, Q, J, 10 and 9. How did you know?
(Incidentally, isn't it kind of weird when a 7 symbol way outplays an ace or king? What are we playing here? Spanish blackjack?)
---
How big are the jackpot payouts in Thunder Cash?
Bigger than … o, nevermind. Let's just say "big."
Let's run down some highlights from the paytable: Five dice or coins win up to $20,000; the diamond can win $40,000; the lucky 7s can earn $50,000; and up to a whopping $200,000 may be won on five scatters.
---
Speaking of scatters, are there free spins in Thunder Cash?
Sure! Three or more scatters – represented by the game logo (yawn) – win tee player eight free spins. Within the free spins bonus round, the wilds become sticky wilds, always welcome with this few free spins awarded.
Anything else about Thunder Cash of note?
Yes: Beware the bombastic music in the Thunder Cash slots game. While the thunder 'n' lightning special effects are barely audible and eye-catching, the bombastic music stridently indicating wins are as spazzily driven as a TV game show and are certain to make all but hearing-impaired players clinically insane within a half-dozen spins. Folks, set the thing to "mute" in the settings menu before you start autoplay. Trust us on this one.
---
Is there a Thundercats slot machine?
As far as well can tell, not within the online slots milieu as of mid-2017. However, with the unhealthy amount of nostalgia for the thing, we'll pretty much merely have to wait for the movie pitch to die in pre-pre-production before the franchise licensing rights get reeeeeeeeeeeeeeeeally cheap again. The Thundercats slots game's existence should be a matter of time…
---
More free games and reviews by the same software provider: