Mighty Wilds jungle themed slot game for free online play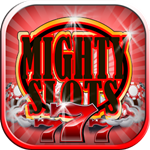 Right, let's start with the name: "Mighty Wilds" is a bit of a misnomer in that, while multiple wilds (or at least a single powerful wild symbol) are implied, but apparently the "wilds" refer to the sort of beasties that make up the symbol set in the slot. The folks at Ainsworth Gaming might have been better off calling this slot game Five Cats, An Ape and a Hippo – though cooler, admittedly less marketable.
---
100% Safe and Reliable Online Casinos for Real Money Play
More free demo slots and practice-play games:
---
What are the basics of the Mighty Wilds slot game?
In short, Mighty Wilds is a straightforward 5-reel 30-payline slots game. The symbol set includes gorillas, cheetahs, panthers, leopards, hippopotami and lions; the king of the jungle is wild. We suppose that the "Mighty" in "mighty Wilds" I used as in "You're mighty glad these beasts are on the other side of the computer screen."
The scatter is – Are you ready for this? You may want to skip to the next paragraph if you're particularly susceptible to earworms – The Eye Of The Tiger! (actually, we're not even sure this is supposed to be a tiger, but why not? Every other freakin' big cat south of Siberia is included in the game, therefore, etc.
Also included are the A, K, Q, J, 10 and 9 symbols, just in case anyone was worried about a shred of originality in this one…
---
How do wilds and free spins work?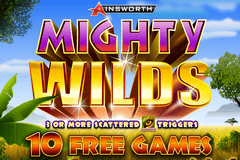 Again, it's all nearly no-frills stuff in the Mighty Wilds slots game, except that the lion wilds are stacked wilds and if we could figure out how to otherwise get another "wilds" in this sentence, we'd do so. This substitute for all other symbols except The Eye of The Tiger scatter symbol.
Landing three or more of the scatters win the player 10 free spins. During these free spins, a bonus multiplier of 2x, 3x or 5x is added on any wins involving the wilds.
---
Any other bonus features or jackpot payouts?
Nope. Really, it's simple stuff in the Mighty Wilds slot. On the plus side, however, Mighty Wilds is a tremendously low-variance slot, thereby rewarding the player consistently with smaller wins.
Can I play the Mighty Wilds slots game for free?
You bet your panthera tigris ocular orb! Stay right here at Demo Slot Machines, click on the game name and you're set! The welcome window asks whether you'd like to play for free or real money. Click on that FREE PLAY button to enjoy unlimited spins for absolutely free; you can't win real money, but it's still fun.
---
Can I play the Mighty Wilds slots game for real money?
Sure can, and you can even win! Demo Slot Machines is not licensed to directly provide real-money slots, but we can redirect you to a partnering casino which was internationally audited for best practices and fair play. Each online casino partner is approved to accept players from your country of residence.
---
More free games and reviews by the same software provider: