Play the free Superman: Last Son of Krypton online slot machine
Right from the go, the Superman: Last Son of Krypton slot gets you ready for sheer comic book action, greeted as you are by a street scene of destruction, billowing smoke, Metropolitans running from an unknown (and certainly metahuman) danger. You've even got the occasional dumbass comic-book denizen standing there staring. No doubt ol' Supes will have to swoop down out of the skies and sweep these sheep up.
---
100% Safe and Reliable Online Casinos for Real Money Play
More free demo slots and practice-play games:
---
Why is the title Superman: Last Son of Krypton?
This has got to be due in part to the multiplicity of Superman slots out there. We seriously doubt that someone at Amaya Gaming is referencing the Eliot S. Maggin 1978 novel of the same name. (After all – spoilers – the Superman: Last Son of Krypton slot contains no aliens (other than Kal El himself, that is) and no connection to Albert Einstein.
This is a comic book-themed slot, so how does it look?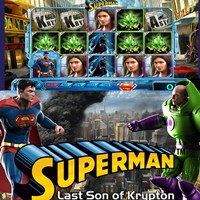 The artistic style combines the character's post-Joe Kubert look derived mostly from the 1970s with 2000s-style inks and some modern touches. In short, despite the different looks for Lois Lane and some others, you'll recognize these iconic characters immediately.
The symbols set is full of nice renderings – maybe the graphic designin' folks at Amaya should be given a shot at illustrating a few Action Comics, eh? – of traditional people and items from the DC Comics universe, including Clark Kent, the S logo, kryptonite crystals, the Daily Planet building and yet another interpretation of Lois Lane. Even the boring A, K, Q and J symbols are extremely cleverly done, depicted as letters in Daily Planet headlines (though "J" should really have begun "Justice League" or even "Joker", we think).
---
And how is the gameplay in this Superman slot?
Superman: Last Son of Krypton slot game is loaded with interesting and appealing features. Clark Kent himself is a unique short of special symbol: Landing three or more of Superman's alter ego (or is Superman the alter ego of Clark Kent? Ooooh, trippy) turns all the symbols into wild Ss.
Should Superman and Lois Lane appear in reels 1 and 5, respectively, on a single spin, the player enters the (sigh) Lois Lane Wild Hearts feature. (Seriously? Perhaps the baddest-ass non-vigilante character in the entire DC Comics universe and all you're playing up is the on-again/off-again pukingly wholesome romance angle?) This feature starts with a "pick 'em" round determining wilds, number of spins and bonus multipliers is first, followed by the spins themselves.
And if Superman appears in reel 1 while Lex Luthor (yes!) appears in reel 5, the Lex Luthor Frozen Wild bonus round begins. This one is somewhat oddly named, as the ice comes from Superman's silly "super breath" power and the Lexy one isn't exactly known for his work in the Ice milieu; he ain't no Captain Cold is what we're saying here. Could this not have been set at the Fortress of Solitude, for example…?
Nitpicks aside, the "Frozen Wild" can prove well more lucrative than the "Wild Hearts" feature: During the free spins – determined as before in a "pick 'em" video bonus round beforehand – Superman may freeze between 1 and 3 reels, with the effect of an expanding wild in each such reel.
In the end, Superman: Last Son of Krypton online slot is … pacey, guys, real space! (And if you get that reference, you've spent too much time in DC Comics mythology land...
---
More free games and reviews by the same software provider: