Come on baby light my fire in Tiki Torch online slot game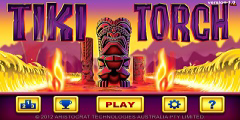 The Tiki Torch slots game is clearly a release from the back catalogue of slot machines provided to "real life" casinos by Australia-based casino game developer giant Aristocrat. Released for the online milieu in the early 2010s, all that can be said of Tiki Torch today is along the lines of "hoo boy, does this game look like the product of another time!"
---
100% Safe and Reliable Online Casinos for Real Money Play
More free demo slots and practice-play games:
---
What are the symbols in the Tiki Torch slot?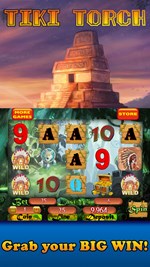 That's a good question. No, really; in Tiki Torch, that simple query becomes a lot more difficult. To be completely honest, after several plays must of the higher-paying symbols are still baffling. Some curvy things are there and is that big white circle supposed to be a snowball? In an ostensibly Polynesian-themed slot? (At least, we believe that's the intention, what with the inclusion of the ostensible islander ritual mask among the symbols).)
Maiking everything worse once again are the poker run symbols, the desperate go-to for many an Aristocrat game. Even more brutal is the inclusion of these slum characters to include 9 and even 8! Can you imagine? The eight? At this point, why bother calling this slot "Tiki Torch" at all? Sheesh, why not just make a straight-up video poker theme; you could even keep the Polynesian theme…
---
How much can I bet in the Tiki Torch slots game?
At least Aristocrat's willing to help keep the losses down in their Tiki Torch slot. On 20 paylines, one may wager 2¢ to $2.50 per 'line, for a maximum wager of $50.
How is the free spins bonus round in the Tiki Torch slot?
Actually, the free spins bonus round does make this slots game at least a bit worthwhile. Upon, in traditional fashion, hitting three or more scatters – that's the pearl symbol, we're told, and not actually a snowball; go figure – starts the player off with eight free spins.
The perk in the Tiki Torch slot's free spins is that "knife", "canoe" and "hut" symbols – all of varying degrees resembling the item they've been assigned – all become wild. You mean, we don't even have to care what the things are, just that the poker-card symbols are bad? Great!
In addition, just one snowball scatter – I mean, *pearl* scatter – during the free spins wins the player the entire original wager, plus other paylines.
---
Who is this slot game for?
You got us! Seemingly too simple for the seasoned player seeking either innovation or big jackpot payouts and too oddly unattractive for new players, we can't imagine who'd find this game fun.
Our theory is that the Tiki Torch slots game only exists in online version so as to bump up the Aristocrat catalogue by another title. Like they really need to do so. Let's just hope that the game designers and interns cutting their teeth in cranking out stuff like this got some more fulfilling and challenging work for the game producer in future.
---
More free games and reviews by the same software provider: