There's a bad moon arising in Wolf Moon slot game for play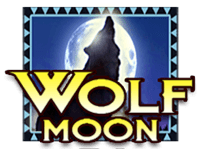 The first step in creating a slots game? We'd saying it's using "wolf" as an adjective in a two-word title. In this spirit, Australia-based casino game software creator/developer Aristocrat presents not Wolf Run, Wolf Pack, Wolf Cash or even Night Of The Wolf, but rather the Wolf Moon slots game. And those looking for something just a *wee* bit different in their slots gaming, you've come to the right place. Wolf Moon is – get this – a *six*-reel game with … actually not that much more in terms of innovation.
---
100% Safe and Reliable Online Casinos for Real Money Play
More free demo slots and practice-play games:
---
What is this "Xtra Reel Power" so proudly displayed?
Absolutely nothing, aside from the fact that Wolf Moon has six reels in play as opposed to the typical five. About the only "xtra power" we see at work here has to do with the xtra power this game has in removing the player's bankroll, with its longer odds based on a 6x4 grid. Wolf Moon is quite a fun game, but realize going in this is a high-variance machine: Expect sizable dry spells between big wins.
---
What are the symbols in the Wolf Moon slots game?
Yes, we'll definitely start with this. Remember what we were saying (writing?) above about just naming your would-be popular slots game "Wolf Something"? Well, in the Wolf Moon slot game, it's a real menagerie at the high-paying end of the food chain: Puffins (!), moose, bears and the titular wolves all co-exist in the reel environment.
---
So … why *Wolf* and why *Moon*?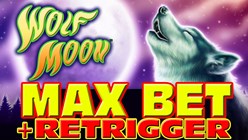 You got us. There's a wolf here, but we're spared the originality of a howling wolf silhouetted against a corpulent full moon. (Wow, we've never seen such an iconic image so deftly used in a slots game before. Sarcasm concluded.)
Also filling out the symbol set are the A, K, Q, J, 10 and 9 symbols and let us tell you, there is nothing more exciting than seeing three 9s line up on a single payline for chump change.
Was that more sarcasm?.....................You're so quick.
---
Are there bonus features in the Wolf Moon slot?
Wolf Moon can be a kind slots game at times. The scatters – the bizarre crystalline green six-pointed stars – work in the usual way of a scatter, namely, landing three of 'em anywhere on the (six, we remind) reels launches a bonus round. The same holds true in Wolf Moon, but with the potential of landing *six* scatters on a spin, more free spins are excitingly possible.
How many free spins can you win in Wolf Moon?
Hitting three to six scatters in a single triggers the "Lucky Zone" feature with 12, 24, 30 or 40 free spins, respectively, awarded.
---
What is the "Lucky Zone" in Wolf Moon?
The "Lucky Zone" is a 2x2 square in the middle bits of the three and fourth reels, i.e. dead center of the 6x4 game board.
If a wild lands in the Lucky Zone, all four symbols become wild, wins are paid and *then* reels 3 and 4 are held for a free respin – and more winnings. Nice.
---
More free games and reviews by the same software provider: