Play Pompeii online slot game for real money and fee demo play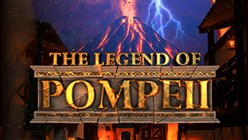 On that fateful day in August of 79, the average Pompeiian was most likely blissfully unaware that anything would be different. Sure, the weather was a bit on the unseasonably hot side – even for Mediterranean summertime – but, hey, life goes on, right? Wrong. When one of the most massive volcanic eruptions of the last 2,000 years came off, the entire city of Pompeii was buried within hours and within a generation most folks outside of Naples had forgotten the place had ever existed.
---
100% Safe and Reliable Online Casinos for Real Money Play
More free demo slots and practice-play games:
---
And today we write dramas, produce episode of Doctor Who and create slots games based on the ancient tragedy. Ante up at the online casino for the thrills of the Pompeii slot!
What are the basics of the Pompeii slot?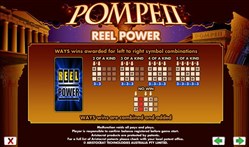 Pompeii is a 5-reel slot game in the "243 Ways to Win" subgenre, thus making any matching symbols in the first three reels automatic winning combinations.
The symbol set is pretty standard stuff that's even a bit historically questionable but let's face it: How much do you know about Pompeii other than Pink Floyd once played a concert there? Said symbol set includes helmets, swords-and-shields, coins and war chariots although, if anything, Pompeii was known in the time of Christ mainly for having surrendered rather quickly to Roman armies. This slot can't possibly be celebrating the people's suppression as well as their extinction, can it?
Anyway, get this: The volcano is wild, as though the celebration of lotsa folks who were honestly and truly screwed hasn't been driven home enough already. This wild appears only on reels 2 and 4 until the free spins bonus round.
---
What are the free spins like in the Pompeii slot game?
The coin is the scatter symbol in the base game; 10, 15 or 20 free spins are awarded with three, four or five scatter symbols landing on the reels on a single spin.
For bonus features within the free spins, the volcanic wilds carry a bonus multiplier of 3x or 5x. Wow, cutting-edge stuff there.
---
Pompeii isn't really a very good slots game, is it?
Not really, no. I mean, it's not like we're wishing for a great bloody volcano to explode and take us out of our misery for playing a couple dozen spins, but we can't exactly recommend the experience, either.
Can I play Pompeii for free?
Not only can you play Pompeii for free, you definitely should if you're thinking about investing part of your player's bankroll on this lackluster bit of work. Enjoy Pompeii and many far superior online casino games from right here. Click, wait a second or two for the game to load (no downloads are made to you PC or mobile device, incidentally) and you're off! Here's to hoping you're luckier than those poor folks of 1,950 or so years ago…
---
More free games and reviews by the same software provider: