Sun & Moon online slot game for game developer Aristocrat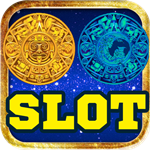 Not only are the sun and the moon the key motifs in the slot game which bears the name of the neighborly celestial pair, they're also the secret to some huge and exciting wins in this rather simplistically designed (right down to Aristocrat's cliché brightly colored A, K, Q, J, 10 and 9 symbols) 5-reel slot game. Top marks all around for gameplay, though, with Sun & Moon employing interesting twists on old slots features while still paying heed to traditional gameplay! Much recommended here.
---
100% Safe and Reliable Online Casinos for Real Money Play
More free demo slots and practice-play games:
---
What is the Sun & Moon slot's theme?
For some reason, Sun & Moon is steeped in Ancient Mayan culture, with the requisite stuff – flat-topped pyramids, jewelry, adornments, etc. – all appearing in the symbol set. This slot could easily have supported any other motif, as long as the Sun & Moon symbols stay around. Perhaps we'll see future offerings done up in Chinese, Egyptian, Persian and USA/Soviet styles…
---
How much can I bet in the Sun & Moon slot?
Sun & Moon is a 20-payline slots game on which the paylines are fixed for wagering. In other words, you'll have to play all 20 'lines – which you *always want to do anyway* -- at set bets. These increments run from 40¢ to $50 per spin, with the usual "round numbers" in between also offered.
---
Let's get to the special features!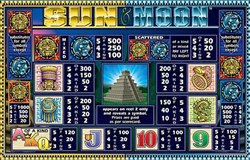 That's not even a question. All right, let's get to the good stuff. Both the sun (god) and moon (god) symbols in the Sun & Moon slot may be considered special symbols, both serving as a sort of combination of scatter and wild. However, these never pay out alone: If at least two of these symbols in any combination hit on any payline in a single spin, *both* become wild and pay out those winning combos on all relevant lines.
And that's just the beginning! Just two sun or moon symbols are enough to award free spins. Trigger bonus free spins rounds of five, 10, 20 or 50 free spins after landing two, three, four or five moon and sun symbols – again, in any combination.
---
Can I play Sun & Moon for free?
You bet Uranus! Enjoy the Sun & Moon slots games – plus many other casino games offered right here for absolutely free with no time limits and no downloads necessary. Simply click on the game title and the game window will begin loading the game. Within seconds, you'll be enjoying the exciting Sun & Moon slot or whatever game you prefer!
(I just wish they'd made this game a little less 1990s online slot-looking, you know? Great game, cheesy 'n' chintzy design – though you didn't ask, there's your 25-word Sun & Moon slots review.)
---
More free games and reviews by the same software provider: