A take on the old Wild West, Buffalo slot game offers free play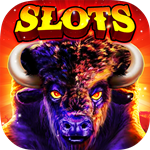 Guess when you're as big as the Australia-based casino game designer/developer Aristocrat, you can get away with Spartanly calling a slot "Buffalo." So, no, this slot is not actually about the city in northern New York with the tormented NFL fans. To be entirely honest, this slot's not really about buffalo per se, either, but rather the good ol' cliché of the U.S. Western lands "where the buffalo roam" and all that. We think.
---
100% Safe and Reliable Online Casinos for Real Money Play
More free demo slots and practice-play games:
---
How are the production values in the Buffalo slots game?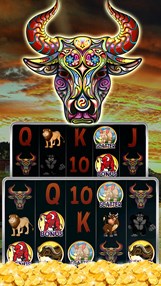 Wellllll, we can't blame you much if you expected more from an Aristocrat game, because damn, the Buffalo slots game is minimalistic in a bad way. Just in terms of sound effects alone, this is one of the chintzier Aristocrat slots seemingly ultra-hastily slapped together for the online milieu in the early 2010s.
With one hilarious exception (mentioned below), most of the sound effects emanating from the Buffalo slot machines are, well, sound effects emanating from an imaginary casino surrounding the player. This soundtrack seems a little busier than other versions produced by Aristocrat and so through boring spins of Buffalo, one can easily imagine backstories. Like the obviously blasted dude who keeps yelling out incomprehensibilities followed by a slurred "'Ere we go!" repeatedly. Or like the one nigh-hysterically laughing lady, clearly being hit on by an unwanted would-be suitor – maybe it's the "'Ere we go" guy.
---
So how are the graphics and effects in the Buffalo slots game?
The symbols are clichés of the (literally) Wild West: High-paying symbols are eagles, wolves, cougars and moose. The sunset is the wild symbol, substituting as these symbols typically do.
Highest-paying among the symbols in the buffalo. Just four of these symbols are required on an active payline to make a win, so that's nice. And the best bit about the Buffalo slot is when a win hits on the buffalo symbol, as a faraway voice calls out "Buffaloooooo!" every time. It never gets old.
Exactly opposite in hilarity and rewatchability are the poker run symbols, a necessity in an unimaginative slot such as this.
---
Are there any free spins in the Buffalo slot?
You bet your burly bison! Three scatters land the player in the "Buffalo Feature" bonus round; this means eight, 15 or 20 free spins for three, four or five scatters hit. During these free spins, the sunset symbol is worth a bonus multiplier on wins of 2x or 3x per symbol hit.
Does the Buffalo slot have any other bonus features?
We're sorry to say it, but absolutely not. Again, this is one seriously no-frills game that's barely recommendable to even those addicted to free spins bonus rounds. Surely none but the most nooby of noobs will enjoy this particular slots game.
---
More free games and reviews by the same software provider: