Play Genie Jackpots with an eye on the lamp and big wins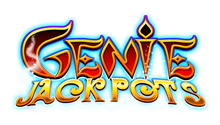 "Reached back for the bottle / And rubbed against the lamp / Genie came out smiling / Like some Eastern tramp…"He said 'Hey, boy, what's happening? / 'What is going on? / 'You can have three wishes / If you don't take too long'..." – Roger Waters, Three Wishes That's one way to imagine starting up play in the slot game Genie Jackpots, another in the subgenre of Arabian myth-themed slots. The difference in this slots game comes with the actual delivery on the promise of three wishes – as long as said desires are mostly limited to stuff like free spins, bonus multipliers and jackpot-level coinage...
---
100% Safe and Reliable Online Casinos for Real Money Play
More free demo slots and practice-play games:
---
How do you play Genie Jackpots?
Wagers run from 1¢ to $25 per payline on the 20-payline Three Wishes.
Things in Genie Jackpots start in pretty typical fashion: The symbols set includes (sigh) the high-card symbols A, K, Q, J and 10 along with accoutrements of 1,200 years ago in what we today call the Middle East, i.e. crossed sabers and golden baubles aplenty. Note the wild symbols (labeled, o so helpfully, WILD) and the stacked bonus symbols so emblematic of Blueprint Gaming slots.
It's when the bonus rounds and extra features start that things get really interesting.
How do the bonus rounds play out in Genie Jackpots?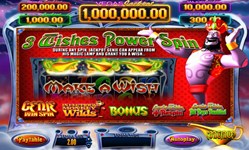 After any spin, regardless of result, the "3 Wishes Jackpot Spin" may be awarded. Similarly to our Aladdin-like friend mentioned above who accidentally conjures up a djinn of lore, so too does the lucky player. Your new mystical buddy pops up to grant three wishes ... well, a bonus award at least.
Among these potential rewards are the "Genie Wilds + Respin" bonus; the "Genie Wishes All Pays Doubled"; "Infectious Monkey Wilds", a pick 'em bonus run or ... the progressive jackpot itself!
---
Wait a minute: Genie Jackpots has a progressive jackpot?
Yes, indeed! As of this writing in 2016, about one year after its release, the Genie Jackpots slot has yet to get into a seven-figure jackpot, but it is drawing close. Is one of your three wishes to become the first to break this online slot…?
What about the bonus symbols in Genie Jackpots?
In the free spins bonus round of the Genie Jackpots slot, keep a look out for the bonus symbols. Certain combinations earn pick 'em bonus rounds in which up to 1000x of the original bet may be won with a little luck and perseverance.
Should I be tempted by the promise of three wishes?
Well, Genie Jackpots is quite an interesting slots game, to be sure. But play with caution – the laugh of what is presumably the titular djinn sounds double-edged at best, evil at worst. Keep control of your temptations and desires if you want to bet responsibly, we suppose…
Give Genie Jackpots a try for 100% free right here at Demo Slot Machines. Real money play also available by clicking on a casino link hosted right here on site.
---
More free games and reviews by the same software provider: