Michael Jackson online slots is a "Thriller" of a free game
The moonwalker himself gets the slot machine treatment in the eponymous Michael Jackson: King of Pop. First released in 2012, this slot remains a cutting-edge jam of casino gaming that's so fun, it's almost dangerous. Get ready to play until the break of dawn…
---
100% Safe and Reliable Online Casinos for Real Money Play
More free demo slots and practice-play games:
---
What songs are on the Michael Jackson: King of Pop soundtrack?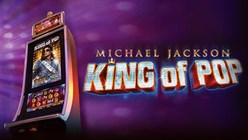 Happily, we can say that this Michael Jackson slot doesn't scrimp on the hits that garnered the King of Pop legions of fans across five decades. Fly away to an age when MJ ruled the charts and cemented him a place in music history for all time with tunes like "Beat It," "Billie Jean," "Smooth Criminal" and "Dirty Diana." And on wins, you'll be treated to video clips of Micahel performing said songs. Not 2 bad at all…
How do you play the Michael Jackson slot game?
First, wager up. The Michael Jackson: King of Pop slot game has 20 paylines, but we can't even admonish players "don't be messin' 'round" because betting amounts are fixed: Wager between 40¢ and $80 per spin.
After that, you may admire the symbol set filled with a collection of Michael Jackson's costumes past: the sunglasses; the white socks-black shoes combo; the hat; the sequined glove. Also included are the low-paying symbols A, K, Q, J, 10 and 9. (Seriously, they couldn't come up with something better? Here's a post ex facto suggestion: How about A, B, C and 1, 2, 3? Remember the time when that was a huge hit?) The wild symbol is minimalistically labeled WILD.
The game progresses in fairly standard fashion in game play – albeit with the frenetic pace of Michael's poppy rhythms. Whatever happens, you'll dig on this slots experience.
What's up with all the bonus symbols?
Oh yes, the Michael Jackson slots game is no heartbreaker in this regard, though admittedly the slot's slightly off the wall with its positive multiplicity of bonus symbols potentially equaling big payouts.
Michael's eyes (depicted as between about the 12th and 13th round of plastic surgery, we'd guess) peer out from above the JACKPOT marker. There's also a BONUS symbol; both are called scatters but work slightly differently. Five jackpot symbols on a payline are worth 2500x the bet, for starters.
---
The appearance of the bonus symbol "appearing on or within 1 positon of the centerline on reels 2 3 and 4" (which is to say, anywhere on those reels) triggers the "Wheel Bonus": The player is awarded one free spin, which in turn gifts free games, credits or a bonus multiplier.
The Michael Jackson slot machine also includes the euphoria of "Moonwalk Wilds." These are labeled "Double Wild," "Double Wild Bonus" or "Double Wild Jackpot," any of which may appear stacked. On any spin, two to five such wilds may land in reels 2 through 5. Each of these symbols counts as multiple symbols-in-one, i.e. the "Double Wild Bonus" is both a wild with 2x multiplier and a bonus symbol.
Finally, as to the gamble feature: It may be human nature to make a thriller of a winning streak bigger, but just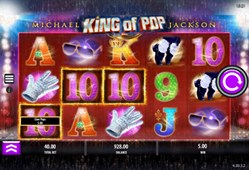 keep the faith and wait for the next spin.
Can I play Michael Jackson slots for real money or free?
Either, if you'd like. To play the Michael Jackson slot for real money, siply click on one of the links of our approved online casinos. For free play, stay right here and don't stop 'til you get enough!
---
More free games and reviews by the same software provider: