Play Happy Days Rock the Jackpot online casino slot game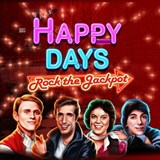 Sunday, Monday, happy days
Tuesday, Wednesday, happy days
Thursday, Friday, happy days
Saturday, what a day,
Rockin' all week with you.
This day is ours
Won't you be miiiiiiiiiiiiiiiiii-i-i-i-ine…
---
100% Safe and Reliable Online Casinos for Real Money Play
More free demo slots and practice-play games:
---
We're quoting the well-known theme song to the popular 1970s sitcom about the 50s, because the Happy Days slot game apparently doesn't have the rights to the tune and instead throws some generic rockabilly soundtrack at us.
But hey, few complaints will be coming from players beyond this. The Happy Days: Rock the Jackpot slot game features fast play, bonus rounds aplenty and a progressive jackpot while stimulating the nostalgia gland of latchkey kids of the 80s. (Nostalgia for nostalgia? Whoa.)
Which characters are in the Happy Days slot game?
Several old favorites are among the character set, including Arthur "the Fonz" Fonzarelli, Richie Cunningham, Joanie Cunningham and Charles "Chachi" Arcola (as portrayed by current-day right-wing fruit loop Scott Baio; so much for childhood TV memories). We really have absolutely no idea why the poker-card symbols are included here, when TV stalwarts like Warren "Potsie" Weber, Ralph Malph, Delvecchio and especially Howard 'n' Marion Cunningham all get stiffed. Ah well.
How does the Happy Days: Rock The Jackpot slot play?
The Happy Days slot game is a 20-payline game with the aforementioned symbols in play , and gameplay pretty typical of video slots in general; a tiny exception here comes in the format, a four-row gameboard instead of the standard three rows. It's when we start talking bonuses that things get interesting…
---
The HAPPY DAYS logo is a stacked wild. The jukebox is the scatter and the gold record (or "golden record" as the game designers would have it) is a special bonus symbol that pops up during the either five free spins triggered with the landing of three scatters.
The "Record Picker" bonus may be triggered after any spin, win or lose. In this bonus round, the player must choose one of three LPs, revealing one of five oh-so-retro 50s iconographic symbols: y'know, juxeboxes, neon signs and such. (What? No reproduction of the Arnold's sign? Come on!)
Each symbol awards differently. Prizes includethe shuffling of the previous spin's symbols into a lucrative winning combination; the random morphing of whole reels into wilds; a huge 3x3 wild symbol on the next spin; free spins; or...
Revealing the gold record in this round wins a progressive jackpot bonus of at least $50,000. Nice. Even nicer? Imagining that win in 1959 dollars, the equivalent of over $400,000 today.
---
Any sequels to Happy Days slots coming soon?
One would think it's inevitable in a time of endless cultural navel-gazing reboots and remakes. As stated previously, many characters from the Happy Days TV series didn't make the cut; you could easily design a Happy Days-themed slot game with those not included here. A "Joanie Loves Chachi" slot is essentially hinted at herein, and at least two other Happy Days spinoffs seem obvious choices for the online casino milieu: Laverne & Shirley and Mork & Mindy.
Obvious, really. Thank you and please send me the royalty check c/o this website.
These days are ooooooooooooooooo-ooo-o-o-ours, spend them with me….
---
More free games and reviews by the same software provider: