The city of lights real money with A Night in Paris slot game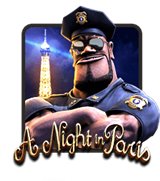 Ahh, Paris- the city that so many writers, artists and singers always love to mention. There's so much to do and see and they top it off with even throwing in Disneyland in there too! It's been called the city of lights and the city of love, so it's no wonder that some very clever people at Betsoft made a free 3D slot game with Paris built-into the theme. This game is truly a clever innovation, which really allows the gamer to become a part of a storyline, while playing a game. It is incredibly well thought through and the quality of the game is shown in every step of playing it.
---
100% Safe and Reliable Online Casinos for Real Money Play
More free demo slots and practice-play games:
---
Now are you ready to steal yourself a real deal?
This great 3D online slot is also free to play, complete with a rocking story line and an interactive format that simply grows on you while you play. The quirky combination of fun characters and incredible 3D graphics highlight the fact that you're not only playing a video slot machine, but a game that is completely packaged for maximum thrill effect! Developed with such intent for fun, the game itself creates a storyline that changes and develops, thus making it a bit different each and every time.
---
What are the winning symbols in A Night in Paris?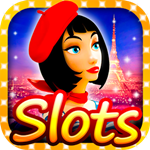 This progressive game follows a very naughty thief by the name of Jacque, and his adventures are the whole focus of the game. This is then followed by the hero of the game who's a big burly guard called Jerome, and his trusty bulldog. Now as you can imagine- Jacque is going to have to work hard to get the valuables that he wants and Jacque is after something very specific. All three top characters are the top pay involved starting with Jerome, then Jacque and the bulldog.
A max bets used Jerome can award a top prize jackpot worth 2500 coins. The sneaky thief Jacque is second in line worth a satisfactory 2000 prize coin win and the bulldog offering a meaty 1250 return payout coins. Bet anywhere from 2 cents to 50 cents per coin with an option to bet up to 5 coins per line- which cover up to 30 lines in all. While there is no wild symbol involved in this game, the universal design allows for multiple bonus rounds, free spin games and instant prize wins. It's a winner the moment you start playing!
---
What makes "A Night in Paris" slot- so appealing?
If it's not the free play aspect that most people are raving about, the graphics and 3D animation in real time are absolutely stunning. We've seen a fair amount of slot machines that tout their 3D stories, however the twists and turns you encounter in 'A Night in Paris' slot make it well worth the pleasure to see a story play out in so many ways. This is still a video slot- by the way! Versatility also adds to the nifty features you'll find offered, since home computer or laptop gameplay gives players at home the stunning impression of what it must have felt like to play this on the real casino floor.
Of course those who cannot put down their mobile gadgets, the free play mode is also perfectly suited to run on any iOS model, Android, Windows phone, or internet touchscreen device all credited to Betsoft's ToGo mobile gaming platform. Then again if playing for real bets is your actual intended goal, it is possible to follow the links provided here to trusted online partner casinos -who can provide you with excellent sign-up bonuses after an easy registration. What more could you ever want?
---
More free games and reviews by the same software provider: