Make money with the walking dead in Zombie Rush slot game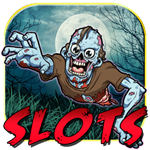 A combination of terror and thrill: this is the definition of Zombie Rush slot from Leander Games. The terror found within this slot game is of course having your brain eaten by zombies, ever increasingly delivering those devious scenarios and wicked graphics. What adds to the thrill of this slot game is obviously seen over the various paylines that bring you more chances to win. But this is obviously not your regular slot since it has 'rules of it's own' that can really come in handy to signify your demise. For example, a "wild" over a zombie turns activates the nuclear zombie feature or a special bonus, you also get re-spins that improve your chances, and if you find Claire before the zombies do, then you win the top prize. It all relates to telling a story which is the real rush of the game as you will find. While most people are in it for the jackpot, the overall design, and colorful illustrations in the game really take you to a place totally infested with brain eating zombies.
---
100% Safe and Reliable Online Casinos for Real Money Play
More free demo slots and practice-play games:
---
Mayhem, risk and fun with Zombie Rush slot game by Leander
The game's music sets up the mood for some good old-fashioned panic-filled spins. There are twenty paylines and the images or combinations you get are either awful zombies, toxic waste, brains, bats, or bonuses. There's also Claire, a girl with black hair and a purple hoodie, and a kid with a hat named Max. There's also some background images of mayhem too, a city that's completely destroyed, some buildings on fire and so forth. In other words, it's the end of the world... But maybe not, if there is any kind of luck on your side and you beat those zombies with worms for brains, who knows, bedlam, chaos and destruction could become your ticket to paradise.
---
How do you play Zombie Rush from Leander Games?
This is actually really easy to start playing since set-up is pressing one button and you're on your way. While the game is loading, you'll get a basic run-through about the rules and bonuses you can be awarded. Then all you have to do is press the spin button to form different win combinations. You can play online for free, and even bet real money if you decide to register with one of our trusted casino partners. Just remember you're still better off than those zombies if you just play for fun. Speaking of fun, there is a bonus game too.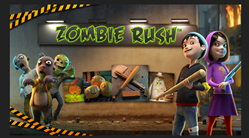 The goal is for Max to find Claire by opening several doors. What's inside those doors? It could be Claire, but if you find a zombie, it's bad news for Max, then obviously the bonus finishes and you return to the base game. The best part of playing Zombie Rush comes from your iPhone or Android device since it comes ready to play specially formatted to fit most smartphone models. When there's a zombie invasion going on and you probably don't plan on staying at home with your arms crossed, you can take Zombie Rush with you anywhere to play. Just be sure to take that shotgun, bat, or whatever you can find and fight for your territory if real zombies happen to show up. No matter which route you take to play, these fun play spins will keep you on the edge of your seat for hours.
---
More free games and reviews by the same software provider: