Incinerator slot free play demo game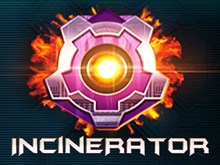 The theme of Incinerator is indeed as minimalist as it sounds: This demo slot is set in a futuristic world of trash disposal. The symbol set is composed of what we assume are pieces of 22nd-century machinery/technology. And the soundtrack, hardcore, backbeat-heavy stuff (it's something of a hybrid between the Mortal Kombat and Run Lola Run scores) with explosive and concussive sound effects sampled in makes for one of the best soundtracks we've ever experienced in a demo slots game.
---
100% Safe and Reliable Online Casinos for Real Money Play
More free demo slots and practice-play games:
In online casino free play slots gaming, terms like "21st-century", "cutting edge" and "addicting action" get thrown around a lot when describing the games, but we can assure you that the Incinerator slot lives up to all those adjectives; in short, this is one kickass demo slot.
The Incinerator demo slots game is of the "cascade" variety, i.e. winning combinations are removed from the board, with new symbols dropped in the fill the paylines once again, producing up to three separate boards' worth of winnings on a single "spin."
Once the lucky player hits those three straight wins, he/she enters the "Wild Pattern Feature" bonus round. Free spins are granted, each with lots of extra opportunities to cash in thanks to those "wild patterns" (in other slots, these may be called "hot zones"), between three and nine squares on the board which may morph into wild symbols. Unlike other casino demos slots, the wild pattern in Incinerator is displayed to the left on the main gameplay screen.
With the combination of background music, killer sound effects, fast gameplay and massive wins possible, the Incinerator slot machine is one adrenaline-pumping game.
How to play Incinerator, no-download slots for real money
If you want to jack up the excitement of the Incinerator free demo slot even further, check it out with the opportunity for real cash winnings involved. But don't risk playing at questionable, uncertified online casinos: Try the recommended casinos, all certified for security and fairness, at DemoSlotMachines.com for maximum safety and fun.
And don't forget: When you register at one of our recommended online casinos, you'll be getting a signup deposit the first time out followed by generous deposit bonuses thereafter. Register and deposit at one of the casino websites listed on our pages – with Visa, MasterCard or various alternate payment methods – and receive regular infusions of free money for more playing time.
Incinerator: This free play demo slot may be *about* burning trash, but is certainly far from trash itself; one of the most exciting slot machines available only today!
---
More free games and reviews by the same software provider: