Break the bank with 88 Riches real money play slot game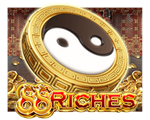 For many years and across the globe. Oriental or Chinese symbols and signs have become synonymous to wealth, luck and power. Whether you believe in things like lucky numerology or Feng Shui from the Chinese culture, nobody can deny that these symbols such as the Yin-Yang, golden dragons and the multitude of very interesting and mysterious icons that go hand in hand. Imagine just how much fun would it be if you put all those things in a fun to play free slot game??
---
100% Safe and Reliable Online Casinos for Real Money Play
More free demo slots and practice-play games:
---
88 Riches free slot offers you big lucky wins?
This is no ordinary slot game. It features interesting Oriental symbols that please the eyes and will make you feel like you're in a real casino even perhaps -if you're only playing it on your mobile phone. It's also very easy to set up, in just a few seconds, you will be ready to play with unlimited free credits. It features a wide array of Chinese symbolism and treasures that pay homage to China's rich culture. Of the best payout symbols shown you'll find the Chinese character for Good Luck- pays up to 100 dollars on a loaded payline of 5 in a row. There is also a Wild symbol, further creating a pathway to substitution wins and unexpected rewards.
Now here's the real kicker, since 3 of the Yin-yang icons landing on reel 1 will grant you 10 free spin games. While that feature plays through, all wild symbols stay locked in place until spin games are finished. This can mean a lot more than just 88 riches for your collective fun coin wins. You may even play a gamble side wager at the end of each line win if you decide to double a line win on a 50/50 guess.
---
Can you win real money as well with 88 Riches online slot?
You bet, and that's as simple as it gets. Of course this demo slot version only plays for fun, so you'll need to follow the links provides to one of our online casino partners. There will be a registration process and a deposit required, however you'll be able to play with real wagered bets that pay-off with actual winnings when they're awarded to you! Perhaps the best options of them all come from the ease of playing 88 Riches slot for real on iPhone or Android smartphones. You won't feel restricted to only being at home, but just make sure you've played this practice slot game plenty of times just to get the hang of how it works on a smaller touch screen.
---
Why is the slot game named 88 Riches?
It is because the word "eight" sounds like "wealth" in the Chinese language. So- what, you didn't know that already… Actually 88 is considered double lucky when it comes right down to it for most Chinese folks, as the very reason the designers at Pragmatic Play really thought this one out. The game title itself isn't just based on random name selection or superstition. Those two eights, or 88 is also very powerful number in the Chinese culture too. The Chinese believe that it brings forth riches and good fortune.
As you may remember the Olympic Games in Beijing, China? It started at 8 pm of the 8th day of the 8th month back in 2008! It's part of the Chinese culture to insert some symbolism into almost everything in their lives. As for the name of this slot game we are allowed to tell you that there is sort of a spiritual community in connection with 88 Riches slot spins- so what are you waiting for? Let's all play for fun and even like it on Facebook to Twitter!
---
More free games and reviews by the same software provider: